Lexus Performance Drive Experience in Palm Springs
Disclosure: This post may contain affiliate links, meaning if you decide to make a purchase through my links I may earn a commission at no additional cost to you. See my disclosure for more info.
While travelling to Palm Springs in itself is a dream, I must praise the work that the Heels + Wheels, and the Lexus team did to organize everything and have it all run so smoothly. Gathering an all women's Lexus Performance Driving experience out in Palm Springs was unreal and an experience I will remember forever.
Lexus invited us down to Palm Springs to test out the performance of some of their F-Sport vehicles (the RC F coupe, and GS F sedan) on the Chuckwalla Valley Raceway.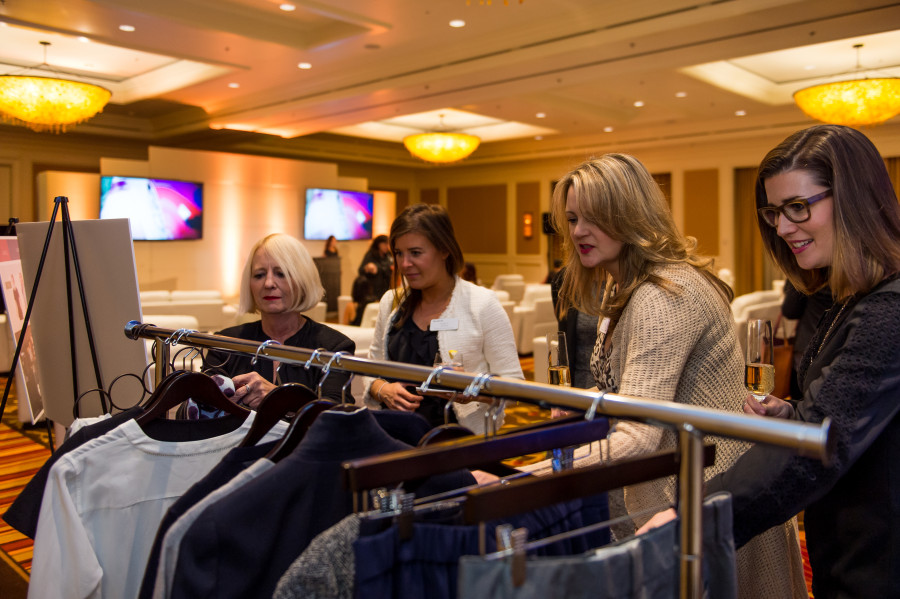 Checking out the designer line of clothing for Lexus associates*
(photos marked with * are professional photos from the event)
Have you ever noticed a certain scent when walking into any of the Ritz Carlton hotels, or Four Seasons hotels? They actually have a signature scent, and Lexus wants to do the same. Whether it be a comfortable spa-feeling scent, fresh, or woodsy smelling aromatherapy, they are trying to get on board creating that one signature Lexus smell. They had us ladies from the event, picking out our favourite choices out of 5. I personally love a relaxing-spa type of smell, so that's what I ended up telling them. Also, something really cool was that Lexus wants to introduce to their women associates, a high trend of Lexus-wear clothing to wear in the dealership. You might notice now that the ladies wear polo-shirts and may not feel comfortable or universally flattering. Not only to make the people working there feel stylish, but also making customers feel comfortable while shopping for cars.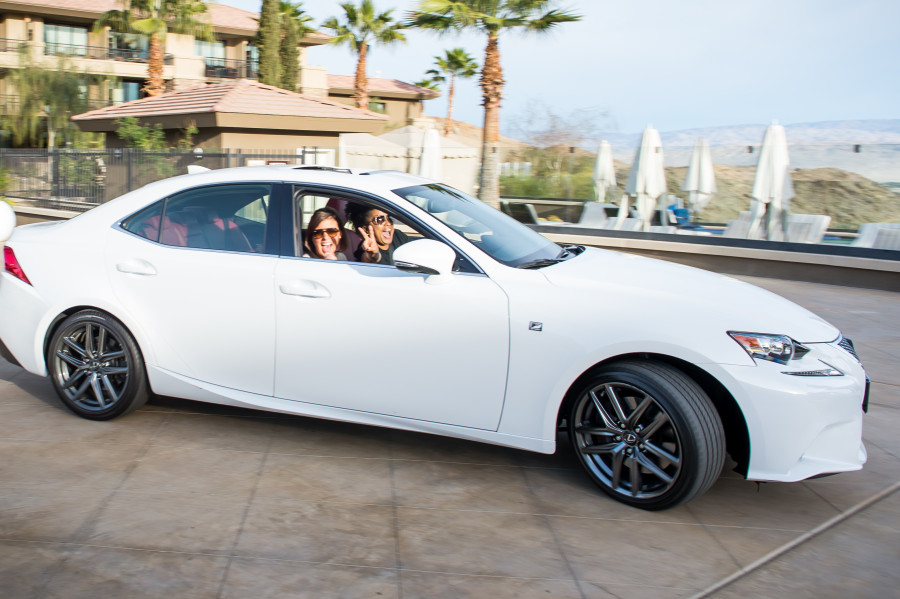 Rene and I getting ready to hit the road!*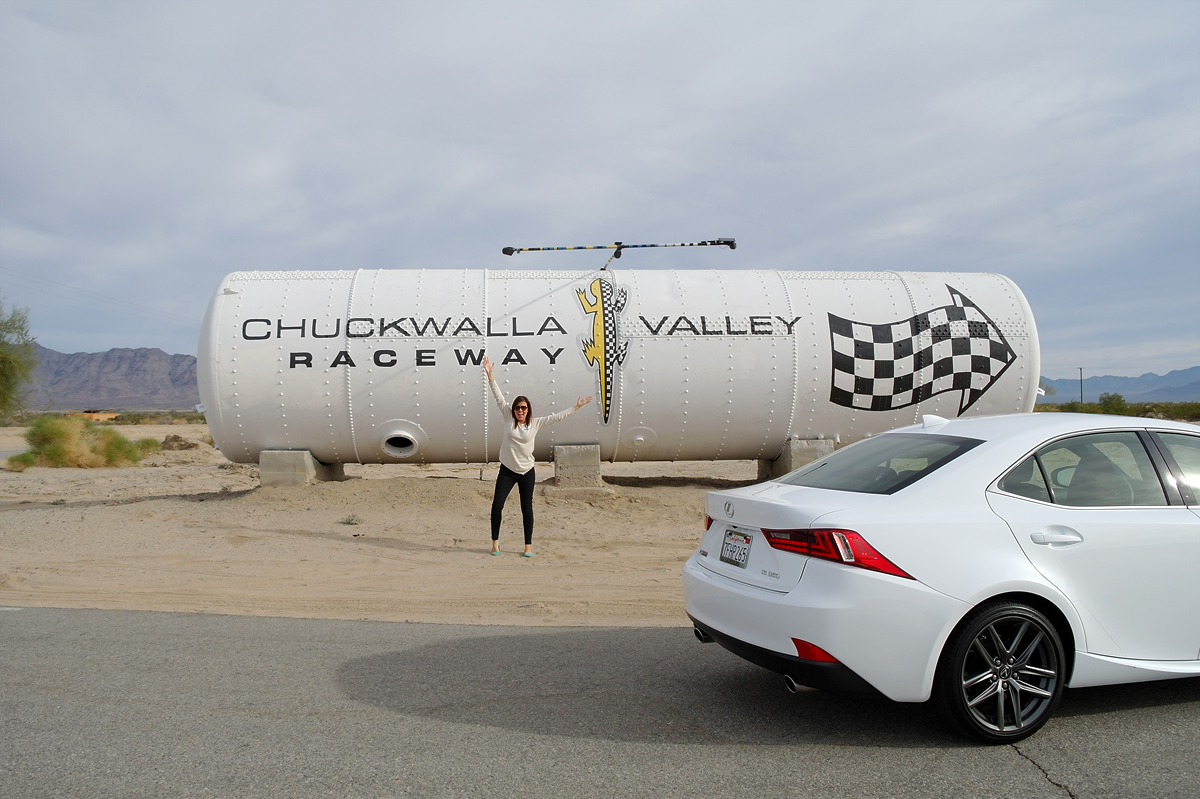 Chuckwalla was 70 miles away from the Ritz Carlton in Rancho Mirage where we were hosted by Lexus. So on the second day, a few Lexus IS 250 + RC F cars were all lined up outside the luxe hotel, ready for us to buckle up, and take them for a ride with our chosen riding partner, I was drivin' with Rene! Such a fun hilarious woman.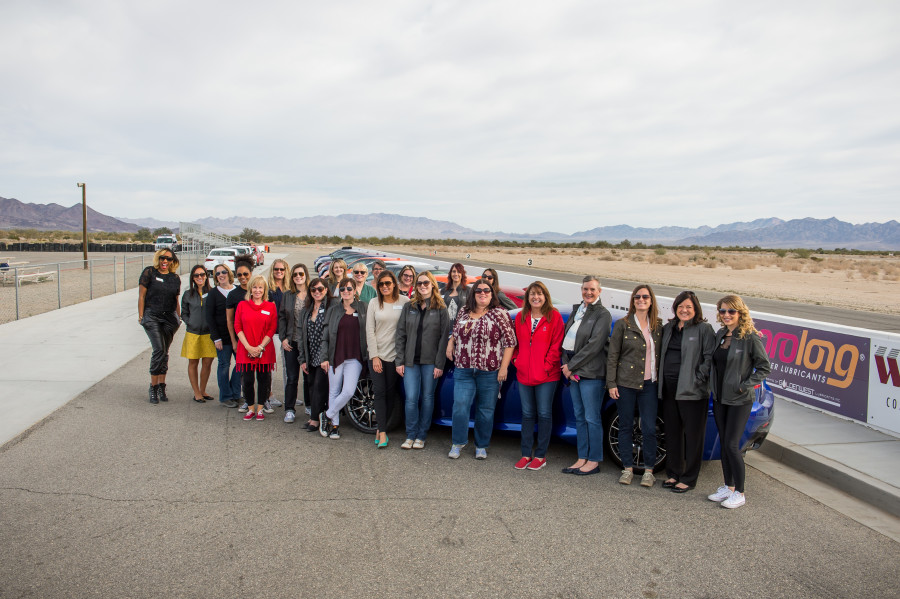 The Heels + Wheels ladies lined up ready to drive*
Once we arrived to Chuckwalla Valley Raceway Which is a premier road course with 17 corners in a 2.68 mile track, we were given a few rides from professional driving instructors, around the track, explaining where to look on the road to make the straightest line and shortest route while driving. All for efficiency. Lexus F-Brand cars equally adapt on the track and the road, and are the highest performance vehicles by Lexus, allowed on the roads. And yes, absolutely they were a ton of fun to drive. In fact, I'm pretty sure I wolfed down my lunch as quickly as possible so I could get back out on the track.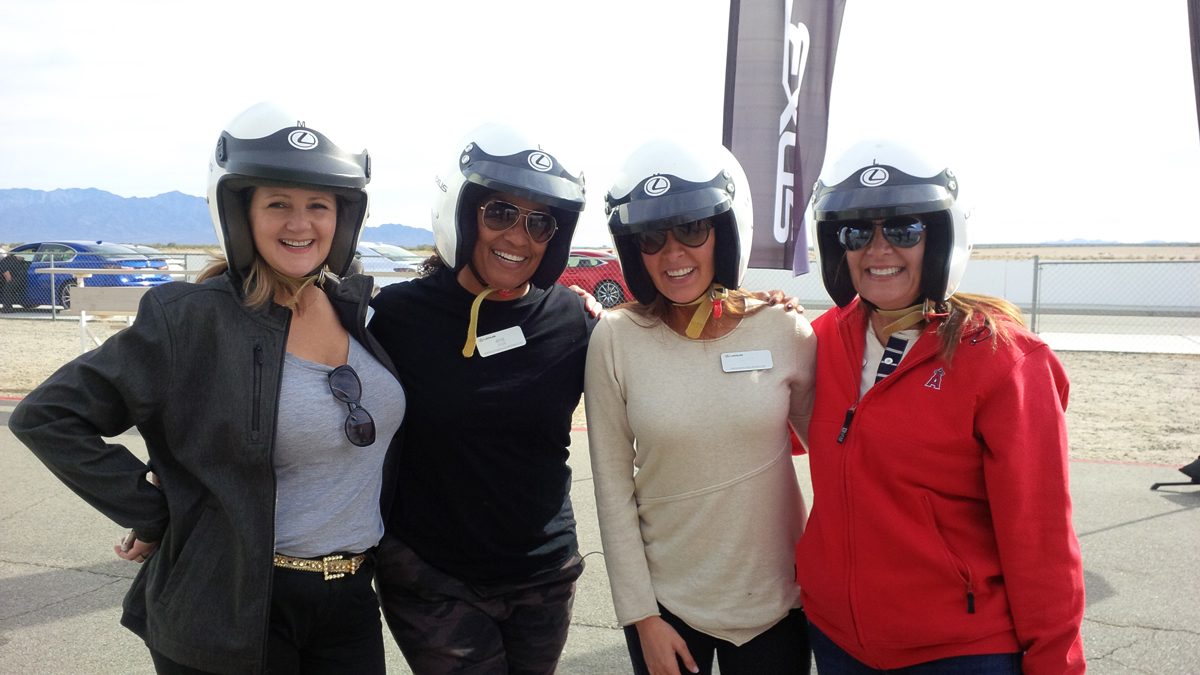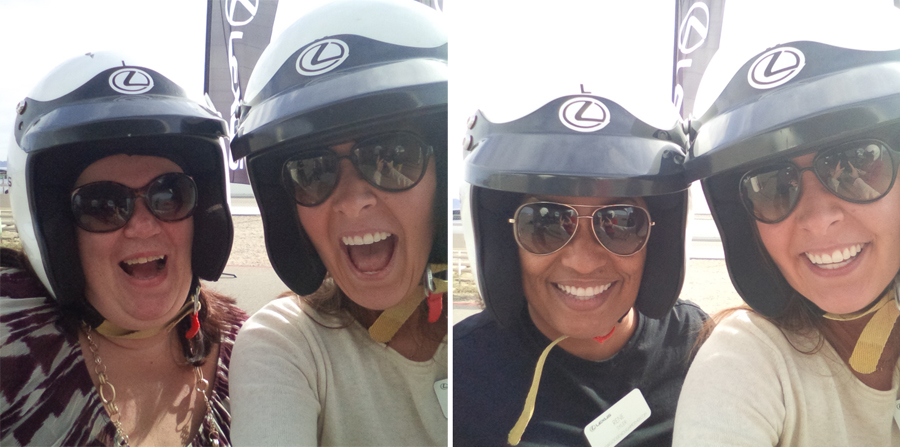 Some stilleto to the metal was definitely out to the test on the raceway, in the Lexus F-brand cars. I never once went without a driver, because I wanted to listen, and learn as I drove with a professional driving instructor. One, to fine tune my driving skills, and secondly because I could play a little harder when I knew there was someone telling me that I could giv'er on the straight-aways. I honestly did not want the day to end.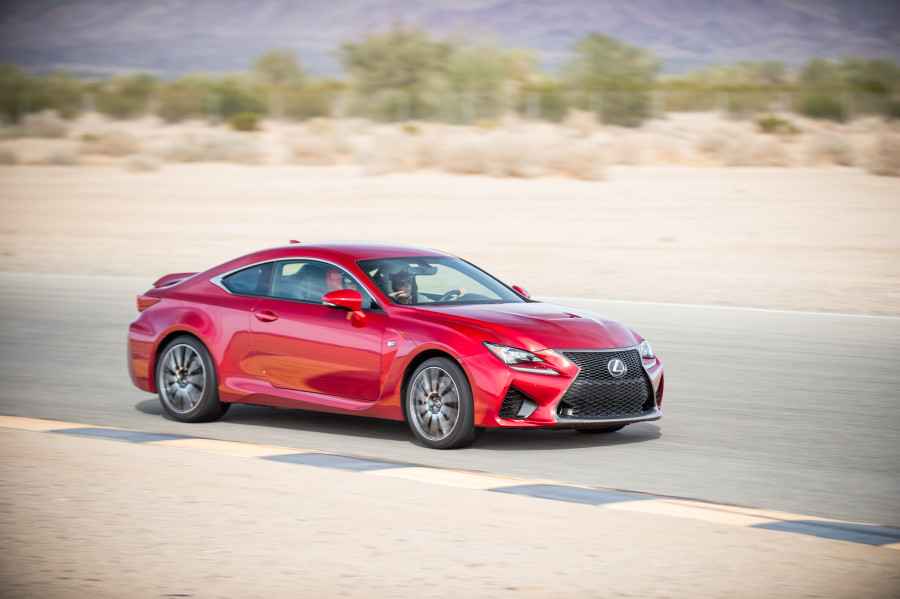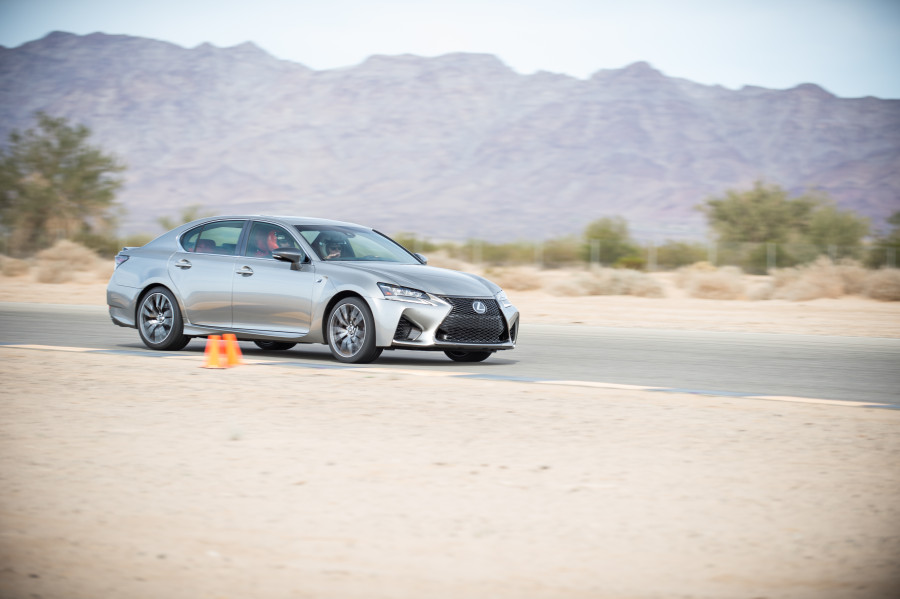 A couple of photos of me in the RC F, and GS F out on the track!! *
Both the Lexus RC F coup, and the GS F sedan were excellent cars to take out on the track.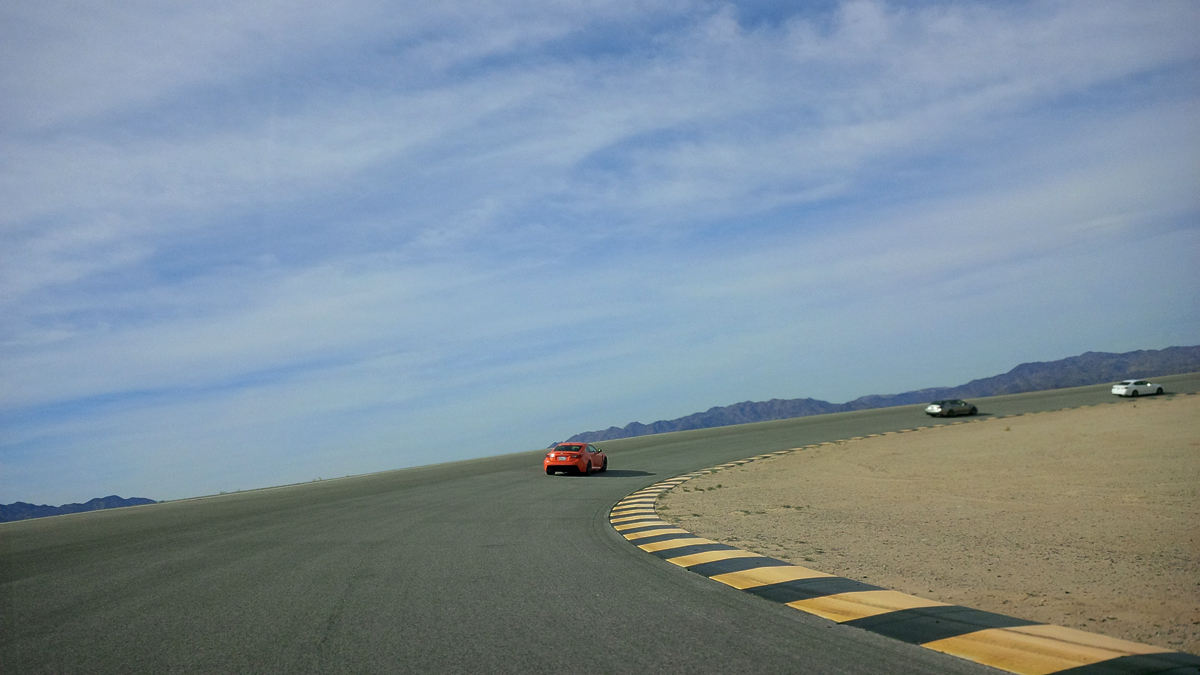 They had such supportive seats to allow you to lean into them when doing sharp turns. It was definitely a spirited driving experience out on Chuckwalla last Wednesday. As one of the presenters said the evening before our day on the track "the seats will huge those curves as you hug those corners", which is the perfect way to put it. The braking in the Lexus cars was smooth yet strong, and I was happy to hear that my driving instructor was impressed with my driving skills, saying that he thought it must've been my experience with driving in snowy + icy conditions up in Canada all my life. He mentioned I knew when to let off the gas before possible spinning out, and had excellent control. That gave me a boost of confidence!
Lexus, I gotta say you make some exceptional vehicles. Pretty sure I still have that adrenaline rush going through my body as I relive the moment, typing out this blog post.
Don't be fooled by that smile, walking away all packed up and ready to fly home. I'm smiling, because I'm on cloud 9 that it all happened. Jasmine trusting me to represent Simply Real Moms, to learn how to drive effectively, smoothly, and to handle the road properly if problems should arise, and of course staying at the Ritz Carlton in Palm Springs is a dream come true all in itself. If you want to check out some of the videos I filmed from the event you can check out Day 1, Day 2, and Day 3 on my YouTube channel.
Many thanks again to Jasmine for sending me to rep Simply Real Moms!
Nancy is a Canadian living in California with her husband and Pomeranian. Nancy and her husband have a love for McDonalds but together love their fitness. Her husband is a 6x Ironman Triathlete, and Nancy is always up for an adventure as she scopes out all what California has to offer. From exploring the local climbing gym to cool coffee shops, hiking with her pup, and travelling around California, all documenting it on her lifestyle blog at www.spiffykerms.com. 
Find her online: